Google launches Device Assist app for select Android 5.0 Lollipop phones and tablets
3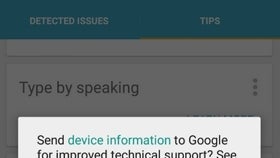 Google today introduced a brand new Android app called Device Assist - which, as the name suggests, is made to assist and allow you to tap the full potential of your handset or tablet.
The app provides various tips in order to let you discover new features on your device, while also trying to improve its performance. Moreover, there's proactive troubleshooting, which means the app can literally help you solve issues related to connectivity, battery, and so on. You can even request a callback from Google for live support.
Right now, the Device Assistant app is available only to US users who own a Nexus, Google Play Edition, or Android One device (for the record, there are no Android One devices in the US yet). An important thing to note is that the app is made for handsets and tablets running Android 5.0 Lollipop, so you can't use it if you have an older version of Android.
Let us know if you're trying (and liking) Google's brand new app - it can be found on Google Play at the source link below.