Google countersues BT on patent claims
7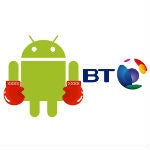 Google has always said that it only intends to use its patent portfolio and the portfolio it acquired when purchasing Motorola defensively, and a new filing looks like it is following that claim. Google and Motorola have countersued BT, Britain's top fixed-line telecommunications group, in a California federal court.
BT had sued Google back in 2011 on 6 patents related to mobile technology, claiming that Google infringes on the patents in Android, Gmail, and Google Maps. Google says that not only are the claims baseless, but that BT has been arming patent trolls as well. Google has also been sued by Suffolk Technologies LLC and one of the patents being asserted by Suffolk was previously owned by BT.
Google's lawsuit asserts that BT has infringed on 4 of Google's patents that cover technology such as networking and making phone calls over the Internet. At least one of the patents in Google's lawsuit was purchased from IBM back in 2010. Google has also apparently filed a suit against BT in a UK court.