Google Play Store officially allows paid apps to go on sale for free
5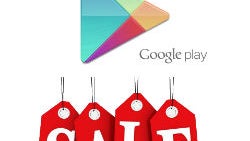 Throughout the history of the Google Play Store, we've seen plenty of deals on apps, but for the most part the lowest price you would ever see during a sale would be around 10 cents. That low barrier has finally been broken as Google made it official that app sales can allow a paid app to be listed for free for a limited time, and done in a way that won't break the Top Paid Apps lists.
There were some rumors that this functionality was on the way but no one was quite sure. However, Google did make it official in a very low-key manner. Google didn't make an announcement of the change, but did post a support page for developers with details on how to go about making a paid app free temporarily. There are some rules and tweaks that developers will need to note though.
As we said, this option is for limited time sales. Google had allowed developers to make a paid app free before but only as a permanent price change. This new option allows a paid app to be made free for anywhere between one and eight days, and sales of this nature must have at least 30 days between one ending and another beginning. And, it appears the reason it took Google so long to sort this out is because it wanted to make sure this sort of sale wouldn't affect the Play Store Top App lists. With that in mind, any downloads of an app that is temporarily free (and subsequent reinstalls of that app after the sale ends by someone who got it free) will not count as an app sale and therefore can't be gamed to cause the app to jump up the Top Paid Apps list.
So far, we haven't heard of any apps taking advantage of this new option, so if you see any, let us know in the comments.