Google Play Books updated with high quality read aloud
5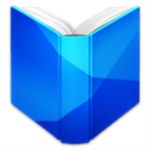 Google Play Books for Android just got a smaller update that could be pretty nice for some users. The changelog on the update is a bit strange though. Google Play Books has had the option to read books aloud for a while now, but that is listed as a new feature here. The real new feature though is having the option for "high quality voice" when using the read aloud feature.
The trouble with the read aloud feature is that the only option for it is to have it automatically start reading aloud if you have accessibility turned on, and if you don't need the TalkBack feature turned on, it will annoy you quite a lot, and the Explore by touch function can slow down your device quite a bit. It would be much nicer if there were simply a toggle to have it start reading aloud whenever you want. Also, a really annoying thing is that the read aloud will stop if you turn off the screen, so you have to keep the screen on and drain your battery while a book is being read to you. One last note: high quality voice sounds great, but it does require an internet connection to work.
The update also adds options to double-tap or pinch-to-zoom on all books to easily make the text the size you want. Recommendations have been beefed up. Text editing is available for notes that you make on books. And, of course, there are the requisite bug fixes and performance updates.