Google Pixel 3 XL vs Apple iPhone XS Max: first look
12
Apple said goodbye to it usual sub-$1000 priced iPhones, the duo that represented the standard and 'plus' sized models. This year, we got the iPhone XS and XS Max, with the latter earning the notoriety of featuring the largest display in an iPhone ever. With Google's announcement, the direct competitor to the iPhone XS Max is none other than the Google Pixel 3 XL – a smartphone that undercuts its esteemed rival by $200. When it comes to two phones that similarly mirror one another, these two are absolutely it!

Design
At the core of it all, both smartphones leverage the glass meets metal designs that have become rampant in the space. Between them, though, we'll give the slight edge to the iPhone XS Max because of its more premium feel in the hand and sturdiness. That's partly attributed to the stainless-steel frame it's flaunting, which definitely adds to its more premium demeanor. On the flip side, we do appreciate how the Pixel 3 XL feels lighter in the hand, but its design favors much more straightforward approach that doesn't achieve the same level of premium craftsmanship that we find with Apple's offering.

Even though the two designs are vastly different from one another on the surface, there's no arguing that they both follow the same fundamental principles. For starters, they both ditch the headphone jack entirely, feature dual speaker configurations, and they even have those much-derided notches with their displays. It's evident that they both have their unique identities, but when premium designs tend to reign supreme, we'll give it to the iPhone XS Max in this case.
Display
Solely basing it on the specs, the Pixel 3 XL has a slight advantage with its 6.3-inch 1440 x 2960 OLED display – versus the less pixel-dense 6.5-inch 1242 x 2688 Super Retina OLED display of the iPhone XS Max. If we're to base it on the specs alone, the Pixel 3 XL would naturally gain the advantage. In reality, however, it's honestly difficult to discern the difference between them, as they're both sharp and detailed at normal viewing distances. However, our eyes tend to favor the richer color reproduction of the iPhone XS Max in our short time checking them both out, but that can change once we spend more time checking out the Pixel 3 XL.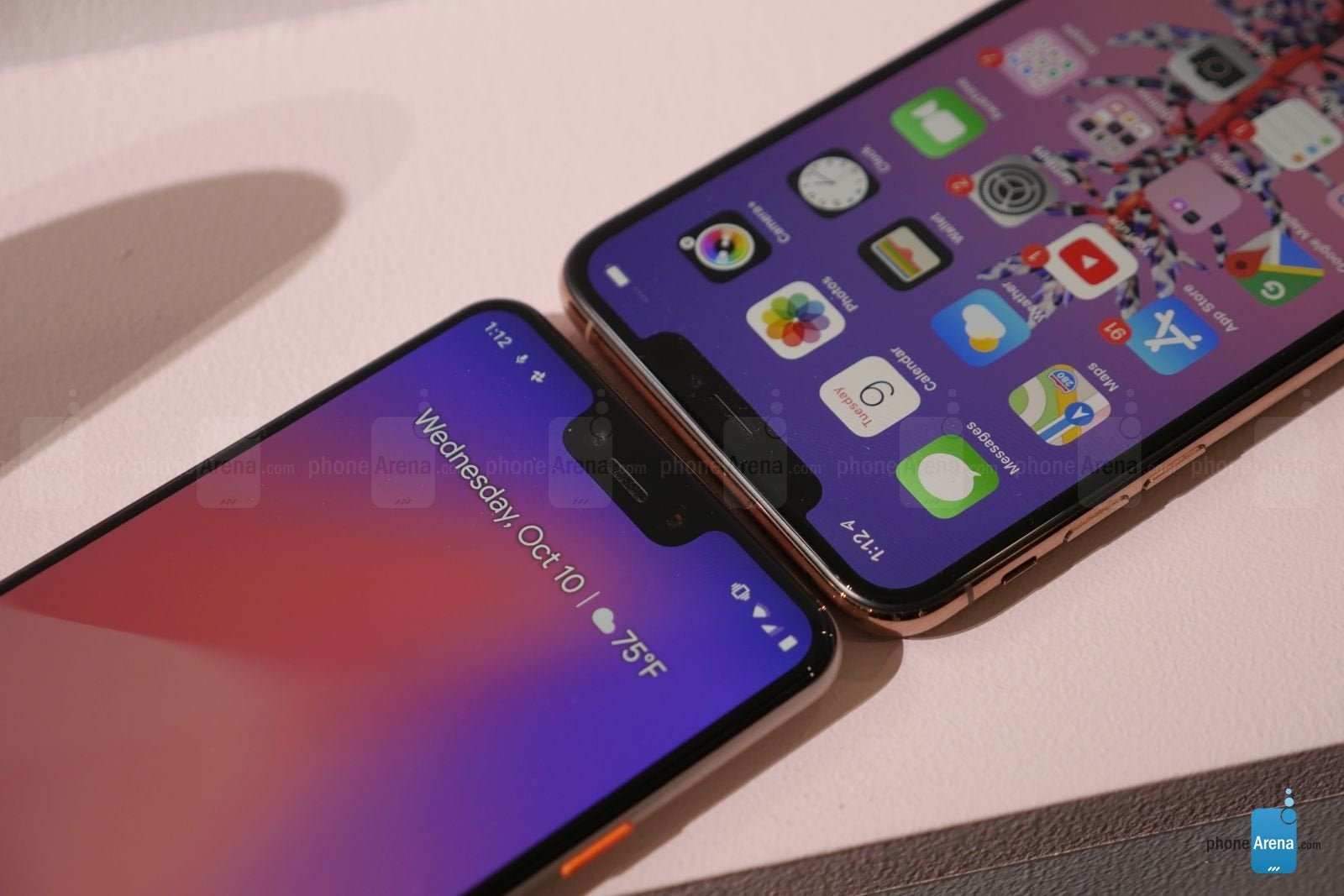 User Interface
Yes, they're both running totally different operating systems, but it's really amazing that they both favor a simplified approach with their software experiences. We've detailed the whole Android versus iOS experience several times before, so it's a matter of what ecosystem you've invested into the most. There's no denying the heavy gesture-based interfaces that iOS 12 and Android 9.0 Pie tend to favor, which again seemingly indicates how the two phones closely match one another. Factoring how Google has implemented machine learning in a variety of area with the experience of the Pixel 3 XL, we're really curious to see how it's able to push itself ahead of its rival.

Performance
Wow, this one is an interesting area because they're both ridiculously fast. Even though we spent just a short time checking out the Snapdragon 845 powered Pixel 3 XL, its baseline performance is without question one of the most responsive from an Android powered smartphone. Conversely, the Apple A12 Bionic powered iPhone XS Max is astoundingly fast as well. In fact, we're inclined to say that the two are even in this area, but we'll have a better judgment once we put the Pixel 3 XL through its paces.

When it comes to storage capacities, they both start off at 64GB with no room for expansion whatsoever. However, the only option for the Pixel 3 XL is a model with 128GB – while the iPhone XS Max is available in 256GB and 512GB capacities. Pricing favors the Pixel 3 XL, seeing that the 64GB version will run for $900, whereas the 64GB iPhone XS Max carries a hefty $1100 cost.
Camera
Apple has seemingly set the bar with its camera on the iPhone XS Max, which features a dual-camera system that has proven to be a strong competitor in taking snapshots in all sorts of conditions. That's a tough act to follow, naturally, but if there's one phone that can do justice, it's going to be the Pixel 3 XL. Specs-wise, the iPhone XS Max is outfitted with dual 12MP cameras for its magical photo-taking abilities, but the Pixel 3 XL continues to show us that it's not one to be overlook despite flaunting only a single 12MP camera. With Google's continuing efforts with machine learning, the single camera of the Pixel 3 XL can capture some equally stunning photos. It's only a matter of time before we can conclude which of the two is superior!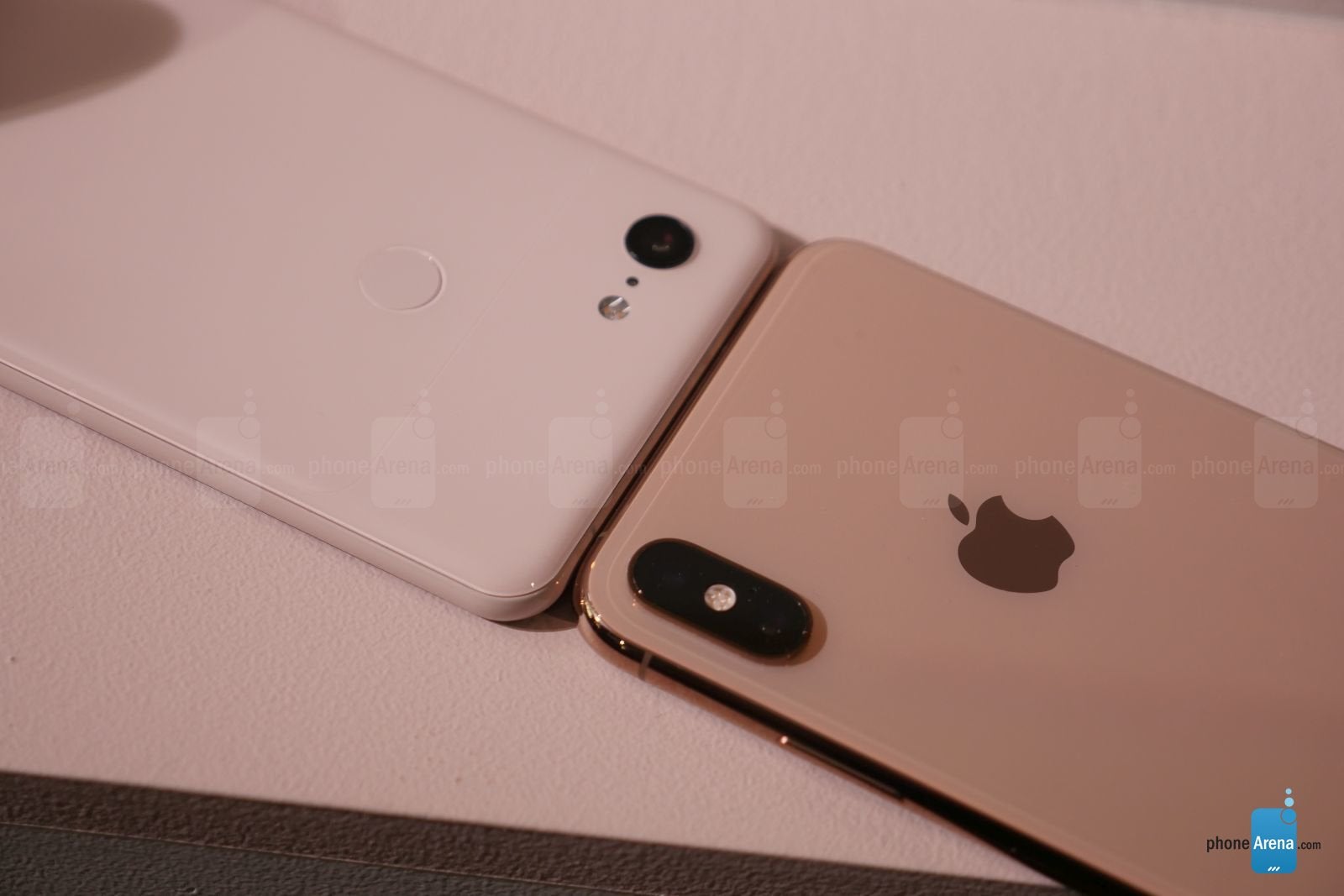 Battery
If we're to look at specs again, the Pixel 3 XL would have a slight advantage in this area with its 3430 mAh battery. That's marginally better than the 3179 mAh battery cell in the iPhone XS Max, but until we can put Google's latest offering through our own testing, it's up in the air as to who will be champ in this area.

Over on the recharging side, we've seen how the iPhone XS Max takes a ridiculously long time to recharge using the included charger, so we're leaning towards the Pixel 3 XL in achieving a significantly faster time! We can only hope at this point.

Expectations
Right out of the gates, the Google Pixel 3 XL has an advantage with its lower starting cost of $900. Given how the two phones closely match each other in various areas, as they emphasize their straightforward experiences, prowess in capturing some stunning photos with their respective cameras, and even feature some similar design characteristics, the $200 savings you get by choosing the Pixel 3 XL seems significantly promising!

You'll absolutely spend a couple of hundred dollars more to pick up the Apple iPhone XS Max, but if it indeed turns out to offer the better overall performance, that price difference may have some justification behind it. We'll save our judgement until we can properly put the Pixel 3 XL through its paces to really uncover its worth. So far, though, everything about it is promising – giving its esteemed rival in the iPhone XS Mas a good run for its money.