Google Now coming soon to your Chrome New Tab page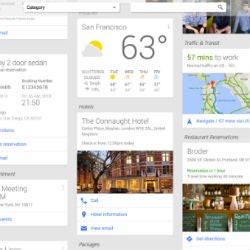 Google Now is a nice feature. We always had higher hopes for it, and while it is useful (and Google Now on Tap is indispensable) it hasn't quite lived up to the hype (though the promise of
Google Assistant
could change that). But, while we're waiting on Google Now to get a little more proactive, it looks like we're going to get it in a new place.
It looks like we might soon be seeing Google Now cards showing up on the New Tab page in Chrome. The feature has popped up in the newest version of the Chrome Dev channel for Android which has expanded an option labeled "Show content snippets on the New Tab Page." This flag doesn't exist on desktop Chrome, only Android, and the newest version gives options to show content either backed by ChromeReader or Google Now.
So far, the suggestions seem to be limited to recent bookmarks and suggested news stories, but obviously the feature is still in relatively early testing. We may see changes as the feature moves through the Chrome levels, and even when it hits the stable channel, it may not be on by default right away. We'll let you know.