Google Nexus S Hands-on
7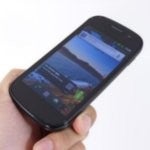 With less than a year under its belt, the
Google Nexus One
has enabled itself to continue being relevant in the mobile landscape while other top notched devices have been announced and released. Even though many devices emulated its high end specifications, the Nexus One undoubtedly became the choice of handset for developers seeing that it quickly received the latest and greatest Android updates. However, it appears that the torch is being passed on as Samsung received the prestigious opportunity of being the manufacturer of choice to build the second ever Google branded device. And instead of following the sales model employed with the Nexus One, the
Google Nexus S
trudges an alternate path as the device is being sold through Best Buy Stores across the country. Some of its features include a 4" Super AMOLED display with WVGA resolution, 1GHz Cortex A8 Hummingbird processor, 5-megapixel auto-focus camera with LED flash, 16GB of internal storage, aGPS, Bluetooth
2.1
with EDR, 802.11 b/g/n Wi-Fi, NFC support, and Android
2.3
Gingerbread.
From a cursory glance, the Google Nexus S shares its resemblance with the Samsung Galaxy S in its general size and choice of materials. Even though it's one streamlined and lightweight smartphone, its
all plastic construction
leaves little in the imagination to make you believe that it's a next-generation phone. However, when it's completely powered off, the surface of the device appears completely clean and free from any distinguishable features. But when looking it from the side, you'll instantly notice the contour shape of the lower portion which essentially adds a dash of uniqueness to its design. Now even though its
Contour display
is touted to offer a more natural in-hand feel, we don't particularly find it to be a
drastic
improvement in any way.
Employing pretty much the same internals used by the Samsung Galaxy S, the combination of its Cortex A8 Hummingbird processor and Android 2.3 Gingerbread literally
makes the phone fly
. Moving around its homescreens is effortlessly accomplished as we're greeted to some smooth looking animations when scrolling the apps drawer. Moreover, there are some other noticeable cosmetic changes with the stock UI that makes it stand out over previous iterations – such as the dash of green colors used by a variety of icons. Now even though we haven't used the new on-screen keyboard as much yet, the addition of the numbers in the first row of buttons are highly appreciated and lessens the amount of time required to type.
So from our initial hands-on, we're more impressed with the performance of the platform as it seemingly looks and feels swift in all aspects. Other notable features include native VoIP integration with the contacts app, support for NFC technology, built-in gyroscope, true multi-tasking, and an improved copy and paste functionality. Needless to say that the star of the show undoubtedly has to be all Android 2.3 Gingerbread because its design and hardware specifications aren't drastically superior to what existing devices on the market offer. In the mean time, you can check out some of the detailed hands-on images and un-boxing video to tide you over. But don't forget to expect our full in-depth review very soon!