Google Jacquard announces Levi's Commuter smart jacket
6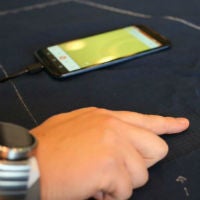 Last year, Google showed off
Project Jacquard
which is an effort to add gesture and touch controls to fabric in order to make smart clothing. Google also announced a partnership with Levi. Today, Google showed off the first product of that partnership - a Levi Commuter smart jacket which will be available in Spring 2017, with a beta available in the Fall of this year.
The jacket itself is a jean jacket (obviously) designed more for cyclists. It has a gesture/touch sensor in the left cuff that will allow users to do a wide range of things including accepting or rejecting calls, controlling music, or triggering navigation tasks. The idea is that you can do all of these things without needing to look at a display of any kind, thereby keeping you safe while riding your bike. Best of all, the jacket is machine washable (though we assume you should take the sensor out before doing so).
Project Jacquard also announced that it is a full fledged platform for smart clothes. The project, managed by Google's ATAP team, will have an app, APIs, and specs so any clothing manufacturer would be able to make a smart garment and developers will be able to create integration with apps for more functionality.