Google Hangouts may lose carrier SMS/MMS support soon
21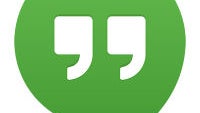 Google Hangouts had its issues as an SMS/MMS app, but Google has pretty well sorted them out. Even so, it sounds like Google may be giving up on having Hangouts handle SMS, if a new rumor is to be believed. We're hoping that this is another test and Google doesn't go through, because Hangouts has turned into a solid all-around app.
According to a source for
Phandroid
, the next version of Hangouts may remove the option to handle carrier SMS and MMS and urge users to download Google Messenger instead. That said, it sounds like those using Google Voice or Project Fi (which is still Google Voice) will still be able to use Hangouts for SMS/MMS, which is a good thing, since the Hangouts experience is far better than the all but abandoned Google Voice app. Messenger is a solid app though, so the change may not be too bad for others.
Still, the change doesn't make a lot of sense. Yes, Messenger is a better SMS experience than Hangouts, but many users do like the unified experience. Maybe Google thinks splitting it up will make things less confusing, but we're not sure.
What do think? Should Hangouts drop SMS support?