Google Contacts update brings revamped UI and features from the web version
5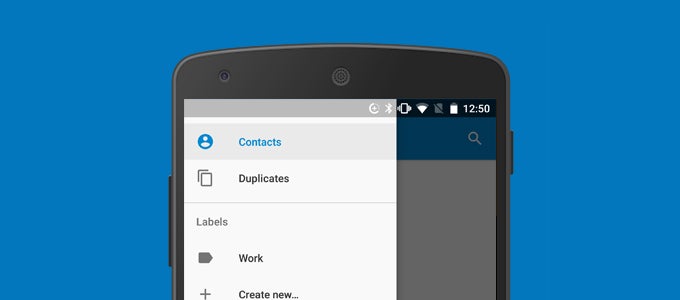 The new and updated version of Google Contacts comes with a revamped UI, complete with that tasty hamburger side menu that we've come to know and love from countless other Google apps, and brings some much-welcomed features over from the web-based version of the service.
Google Contacts v1.5 ditches the familiar "Favorites" and "All" tabs for a slide-out side menu, that is both sleeker-looking and richer in features. Within it are nested options for viewing duplicate contacts, creating and managing labels, and quickly changing between multiple synced accounts. Settings, once found in the three dots drop-down menu in the upper right-hand corner of the screen, has also found its place in the new hamburger hub.
Labeling works much like you would expect if you've ever used the web-based version of Google Contacts or Gmail. You can create labels and assign different contacts to them by opening the side menu, tapping "Create new..." and then selecting which contacts you want to associate with which label. All your labels are displayed in the same menu in chronological order, and reveal contacts linked to them once tapped.
The new duplicates screen lists all duplicate contacts, allowing you to easily merge them with a single tap of the "Link" button, or dismiss the suggestion by tapping "Dismiss". Conveniently, the app also goes through all synced accounts in its search for dupes, quickly eliminating redundant entries and applying changes across accounts.
Since the "Favorites" tab is gone, starred entries are now displayed at the top of the contacts list, followed by all others in alphabetical order. Strangely enough, the scrollbar has been almost completely flushed with the side of the screen, and can't be held and dragged for quickly jumping between letters.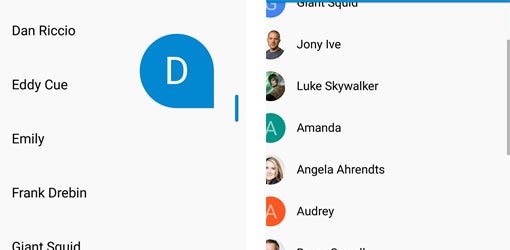 The scrollbar has changed in Google Contacts 1.5, and not necessarily for the better
If you'd like to check out the new version of Google Contacts before it hits the Play Store officially, use the verified source below to download the APK and install it on your device.
via
Android Police