Goat Simulator now available for Android and iOS
7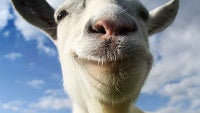 We knew it was coming, but we didn't know exactly when to expect it. The absolutely absurd Goat Simulator is finally available for Android and iOS devices. And, of course, this is the official game directly from developer Coffee Stain Studios, not one of the myriad clones that have popped up.
The game translates well to the mobile experience, mostly because it was never known for impeccable controls or gameplay. The point of Goat Simulator is that the game is filled with bugs, bad physics, and general chaos that comes together to create ridiculous humor. With the mobile version, you get a virtual joystick for movement and buttons for jump, headbutt, and grab (with tongue). There are objectives and achievements if you want, but if not, you can just wreak havoc in the world. And, there are options for costume changes, and of course a jetpack.
If you are interested in Goat Simulator, it will cost you $4.99 on either platform, and that purchase will get you versions for phones or tablets. On Android, you'll need to be running version 4.0.3 or higher, and you'll need iOS 6 or higher on an Apple device.