Foxconn rumored to be looking at U.S. production facilities for smartphones
15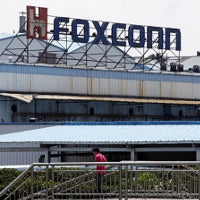 While the
Motorola Moto X
isn't exactly selling like hotcakes
, Motorola did seem to strike a nationalistic nerve (hey, we scored an "A" in alliteration back in school) when it decided that it would produce the phone at a factory in Texas. The Moto X is the first smartphone built in the U.S., but it doesn't look like it wil be the last. Last week, a published report said that Foxconn is looking to open a factory in the states.
While Foxconn workers assemble a number of different smartphone brands and tablets, it is known mostly for its assembly of the Apple iPhone. Although the Taiwan based contract manufacturer would seem to be well suited to take advantage of the low wages in China, wages in Asia are on the rise and the workforce is not as highly skilled as in the U.S. As for the difference in wages, Foxconn will make up some of the extra cost by using automated production equipment. In addition, only high-end models would be produced in the U.S. with other models confined to production in China.
According to the report, Foxconn is looking to open a pair of factories in the U.S. with one on the East Coast and the other on the West Coast. Foxconn founder and chairman Terry Gou recently met with Arizona Governor Janice Brewer to discuss opening a Foxconn facility in that state. Gou says that the West Coast of the U.S. is too focused on software developers and needs some hardware designers in the area to balance things out.
source: cnYes.com (
1
), (
2
) (translated) via
UnwiredView