Foxconn making its own smart watch to accompany your iPhone, measure your pulse
3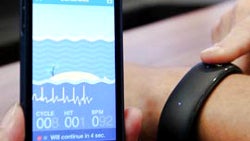 Foxconn might be trying to steal some of the rumored
iWatch
thunder before it launches with a wristwear of its own, the CEO mentioned at a shareholder meeting.
The smart watch will have sensors for measuring pulse and respiration, and will also be able to display various info coming from your smartphone, like call logs, Facebook updates, messages and so on.
Said smartphone will, naturally, be the iPhone, which brings the question whether the Foxconn product won't be just a precursor and a test run for Apple of how people will react to such a smart watch.