Former engineer says hardware keyboard was "seriously considered" for original iPhone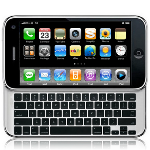 It seems like we can't go too long without another report coming out that directly contradicts something that Walter Isaacson wrote in his now super famous biography of Steve Jobs. Earlier this month, it was
Google CEO Larry Page
claiming that Jobs' threats of "thermonuclear war" on Android were just for show, to inspire his company. Now, a former Apple engineer is saying that the original iPhone almost had a physical keyboard.
In the biography, Walter Isaacson made it sound as though there were prototypes which included physical keyboards, but Steve Jobs quickly vetoed those ideas in order to push his theory that every interaction had to be possible with nothing more than a fingertip. Tony Fadell, the former SVP of the iPod division at Apple and a member of the team working on the original iPhone tells it differently. According to Fadell, the Apple team seriously considered having a physical keyboard as part of the original iPhone design, though he personally didn't want to see that. He didn't say whether it would have been a slide-out keyboard like the Motorola DROID series phones, or a portrait QWERTY like most BlackBerry phones.
Fadell also said that there were three main prototypes that were considered: an "iPod + Phone", a device that was called the iPhone, and then the iPhone that was ultimately released in 2007.
What do you guys think? Was a physical keyboard that serious of a consideration, or do you believe Isaacson that Jobs never seriously gave the idea a chance?