Fitness-first Huawei Fit is leaked with circular e-ink display and heart rate sensor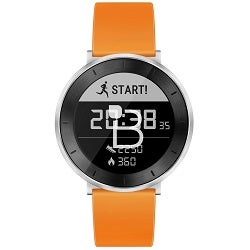 When it comes to wearables, the most popular feature for these gadgets definitely seems to be fitness. Whether we're talking about a full-featured smartwatch with fitness features or a device from Fitbit that's made with fitness as its main priority, there's no doubt at all that wearables are often at their best and most efficient when they're helping you burn off those pesky extra calories. The
Apple Watch
Series 2 comes equipped with a host of new features that allow it to be one of the best fitness companions out there, and thanks to a new leak courtesy of
TechnoBuffalo
, it loosk like Huawei could be prepping to release a fitness-centric wearable of their own as well.
The new device is supposedly named the Huawei Fit, and considering the fact that this gadget hasn't been mentioned or heard of until these pictures surfaced, there's honestly not a whole lot that we know about it. What we do know is that the watch will feature a circular display, and similar to the likes of the Pebble watches, the Huawei Fit will come with an e-ink display. However, this isn't colored e-ink like as it is on the Pebble Time series. The Huawei Fit's e-ink display with be entirely monochromatic similar to the original Pebble and Pebble 2, and like the latter of those two devices, the Huawei Fit looks to have an incredibly strong focus on being used as a
fitness tracker
.
In the newly leaked images, the screen of the Huawei Fit shows that it will be able to track your runs and how many calories you've burned while doing so, but more important than that, the screen also shows it displaying a heart rate and a swimming activity. This suggests that the Huawei Fit will come equipped with a heart rate sensor and that it will be waterproof to some extent, and those are two big features that are essential to any well-equipped fitness tracker.
Aside from this however, nothing else is currently known about the mysterious Huawei Fit. The company is planning to
launch the Mate 9 sometime this month
, so there's a chance that the Huawei Fit could get announced alongside that.