Feedly adds $5 paid tier for not-so-premium features
2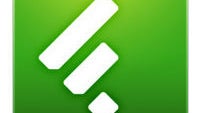 Since the death of Google Reader, there has been something of a surge in RSS reader apps that don't just offer free tiers, but have premium tiers as well. The reasoning is simple: most companies don't have the alternate revenue sources that Google does, so they need to make at least some money on their products. With that in mind, Feedly has launched a new paid tier to its feed reader.
Unfortunately, the feature set being offered in the premium tier really isn't all that impressive. The premium tier will set you back $5 per month or $45 for a year, and it only brings 4 features: HTTPS security, one-click saving to Evernote, priority support, and feed search.
Feed search
is something that Feedly had offered when it was based on Google Reader, but had to remove, because it was too resource intensive to scale.
The feature set just doesn't make sense though. Feed search should be standard, not premium. Priority support doesn't make sense, because if you're having that many problems with Feedly to make that feature worthwhile, you might not be bothering to use Feedly, rather than
paying more
to use it. If you're a power Evernote user, maybe this is worthwhile, but again, Evernote seems like something that should be standard.
What do you guys think?