Fake versions of many Google apps arrive in the Windows Phone Store
99+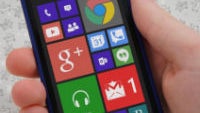 There are a good number of Windows Phone users who are eager to finally get the news that Google is going to start investing resources in the platform and bring official apps. Unfortunately, that also means that there are a good number of users who could be a target for scams using fake versions of Google apps, like the ones we have seen hit the Windows Phone Store recently.
Luckily, these fakes aren't exactly the most well-made fakes around. The most convincing part of the scam is that the publisher for the apps is listed as "Google, Inc.", whereas the real Google is listed as "Google Inc." (no comma). Once you get past that, the fakes are relatively easy to spot. The first major red flag is that all of the apps (Hangouts, Maps, Search, Voice, and Google+) are listed at $1.99, when it is pretty common knowledge that Google is all about free services. Once you dig deeper, the scam unravels more. The screenshots for the Google+ app are obviously just taken from the mobile website through IE, and the Google Voice screenshot isn't even showing the correct app. Instead, it is showing an app for voice memos.
Obviously, we don't expect that any of these apps will last too long in the Windows Phone Store, but in the meantime, we wanted to bring attention to the fakes. Not so much because we believe that any of you would be fooled by the fakes, but more to highlight both the lack of effort put into the scam and the fact that a scammer was able to list itself as "Google, Inc." in the WP Store. That's not very good security by Microsoft on that.
*Update* The apps have been pulled from the store. Microsoft said on the matter, "We removed a series of apps for violating our policies concerning the use of misleading information. The apps attempted to misrepresent the identity of the publisher." Although, you will notice there is no word on how or why the apps were approved in the first place.