Facebook overhauls Android app, brings parity with iOS
22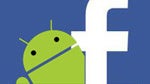 Facebook confirmed today that they will be releasing an update to their mobile app for Android. It's a pretty major fix-up, including increased speed and a heavily tweaked user interface. The result is an app very similar to the update released for the iPhone in October.
This actually completes an odd development cycle for Facebook's mobile offerings. Facebook lacked an official app for Android for quite a while – apparently they had hired a company to develop it for them, but Google then bought the same company by coincidence, thus creating an even longer wait for Android users.
Changes in the updated app include improved picture speed (up to two times faster), a shift in user notifications to the top of the app, and a new side-menu to allow easier access to all of the sundry groups, apps, and feeds you might want to use.
Although the release is supposed to be today, at the time of this writing the update had not yet been pushed live to the market, but it should be there "soon".
soource:
Facebook
via
Droid-Life
Recommended Stories