FCC investigating why AT&T's mobile 911 service went down for five hours yesterday
10
If you're an AT&T subscriber, hopefully you didn't have a medical emergency or an issue requiring the police yesterday afternoon. From 5:49pm to 10:25pm Eastern Time Wednesday, AT&T mobility customers were unable to access 911 in 14 states and Washington D.C. Emergency response officials used social media to alert AT&T subscribers. The Hendricks County Communications Center in Indiana, a dispatch center, said that 911 calls placed over AT&T's network were not connecting. "We have conducted test calls locally and it will just ring," the Center posted on Facebook.
By 9:30pm Wednesday, the 14 affected states had posted warnings. Not including Washington D.C., the states affected included:
Alabama
Arkansas
California
Colorado
Florida
Indiana
Kentucky
Louisiana
Maryland
Pennsylvania
Tennessee
Texas
Virginia
West Virginia
Around 10:30pm, AT&T issued a statement that said "Service has been restored for wireless customers affected by an issue connecting to 911. We apologize to those affected." FCC chairman Ajit Pai followed that up with a tweet of his own in which he stated that the FCC would "investigate the root cause of the outage and its impact." We don't know how long it will take to issue a report, but as soon as the FCC releases it we will let you know.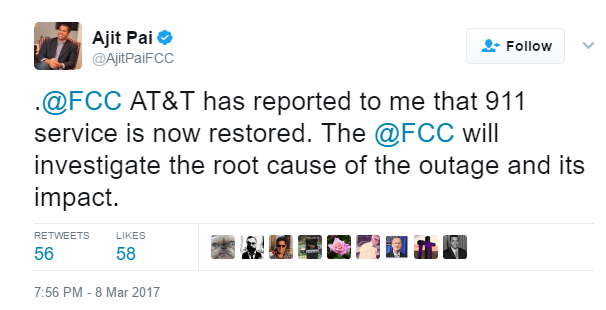 FCC chairman says he will investigate AT&T's 911 outage
source: @AjitPaiFCC, NYTimes via PCMag