Ericsson: 70% of the global population will use smartphones by 2020
4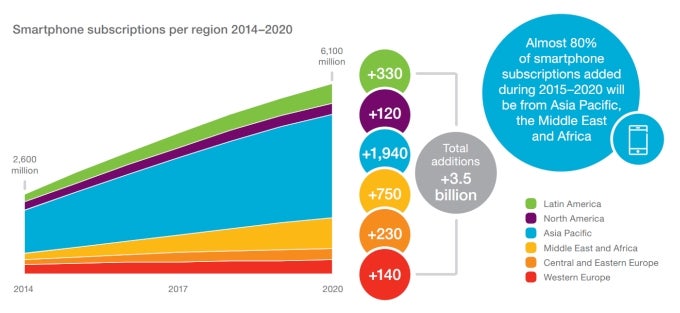 According to a new report from telecommunications giant Ericsson, 70 percent of the people on the globe will use smartphones by 2020. Furthermore, the report also estimates that 90 percent of the world's population will be covered by mobile broadband networks by 2020.

Ericsson's Mobility Report for June 2015 claims that, at the global level, smartphone subscriptions will double at 6.1 billion by 2020, up from 2.6 billion in 2014. Part of this surge in global smartphone subscriptions is currently driven by the fact that many customers in North America and Europe are now adopting two handsets. Ericsson also believes that the number of smartphone subscriptions will surpass those for basic phones in 2016.
When it comes to new smartphone subscriptions, however, 80 percent of them are estimated to come from emerging markets in Africa, the Middle East, and the Asia Pacific region. This will not represent a shift from how things are currently developing, as the report claims that three quarters of global subscription growth during the first quarter of 2015 came from Africa and Asia.

Ericsson researchers believe that the total number of smart devices will expand to 26 billion by 2020. As a consequence, mobile data usage is estimated to multiply ten times over the next five years, 80 percent of this data estimated to be generated by smartphones.

The report also claims that video traffic on mobile will grow 55 percent by 2020, representing a real threat to classic TV channels. If the report turns out to be accurate, then videos will represent 60 percent of all mobile data traffic in five years from now.

For more details on the forecasts made by Ericsson, make sure to check out the 28-page report by following the source link below.