Eric Schmidt says Google doesn't support or work with Carrier IQ
16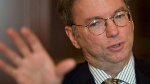 Carrier IQ has created some big trouble around the mobile industry. The software has been found to record keystrokes and other personal data on cell phones, and the backlash has forced manufacturers and carriers to explain if they are using the software or not. Google definitely wants to distance itself from the mess that carriers and manufacturers have gotten themselves into with Carrier IQ, and so Eric Schmidt has confirmed that Google has nothing to do with the software.
At an Internet freedom conference in The Hague in The Netherlands, Schmidt explained that because Android is an open platform, bad software can be put onto devices. He goes on to say that Carrier IQ is one of those bad pieces of software, which will keep your keystrokes. But, he adds that Google doesn't work with the company, nor does Google support the software.
We'd have to believe Google on this one, because even on carriers like Sprint where Carrier IQ has been found on many devices, the software has never been found on a Nexus device.
source:
Reuters