Employee uninstalls employer's GPS app that tracked movements 24 hours-a-day, gets fired
45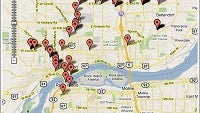 Just because you feel like someone is watching you means they really could be, it seems. Intermex is a money transfer service which specializes in money transfers to Latin America.
Former sales executive from central California, Myrna Arias, worked out of the firm's Bakersfield office. Myrna and her colleagues were required to have a job-management app, Xora (now ClickSofrware) installed on their company-issued iPhones.
However, after researching the app and its capabilities, Arias uninstalled the app because it enabled her supervisor, John Stubits, to monitor everyone's movements, even when they were not working. Arias was subsequently fired. Xora had a "clock-in/clock-out" feature, but that did not enable or disable the GPS tracking of the app. Stubits admitted that employees would be monitored while off duty and even bragged to people about knowing their locations, and how fast they were driving.
To her credit, Arias did not object to the app's use when she was working, but as her lawsuit against Intermex contends about monitoring of activities outside of work, "This intrusion would be highly offensive to any reasonable person."
Arias filed a lawsuit against Intermex, seeking more than $500,000 in damages and alleges invasion of privacy, retaliation, and unfair business practices among other violations. She further claims that she was even monitored on the weekends when she was not working.
While this looks like a slam-dunk lawsuit, the fact that these were company issued (and presumably owned) devices raises legitimate questions about the assertions against the business practices, and even the employment status. California is an "at will" employment state, meaning that employees can quit with or without notice, for any reason, or no reason whatsoever. However, that same rule applies for the employer as well.
source:
Ars Technica