EXCLUSIVE: Best Buy to launch the Motorola XOOM on February 24, priced at $799
4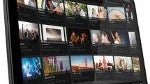 Only a few hours ago Sanjay Jha, CEO of Motorola Mobility, stepped forward and said that the
Motorola XOOM
tablet is to have a
$799
price tag, thus denying some ugly rumours it's to cost more than a thousand bucks.
And now a reliable tipster has informed us that
Best Buy is to launch
the tablet with the above-mentioned price on
February 24
, while presales will start on Sunday,
February 20
.
If you are among the first five people to order the Motorola XOOM, a $50 deposit will reserve you one, which is kind of important since each store will be allocated only 5 units at launch, although you don't have to worry too much about that, as more units will be ready to ship at any time.
Also various accessories for the Motorola XOOM, among them docks, Bluetooth keyboard and cases will be on board.
Now that all the details are here, it's time to ask you - is this a fair price for the Motorola XOOM and are you getting one?
Hundreds of thanks for our anonymous tipster!