EA celebrates back to school with 80% off some of its iOS game titles this weekend
5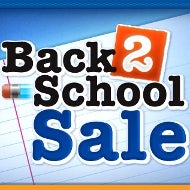 Back-to-school offers are in full swing, and EA is slashing prices on some of its most popular iOS titles for this weekend only.
On the iPhone games front we have TETRIS, SCRABBLE, FIFA 11, Fight Night Champion, TRANSFORMERS: DARK OF THE MOON, BATTLEFIELD: BAD COMPANY 2, RISK, MADDEN NFL, and NCAA Football selling at a discount.
The iPad tablet will see the prices of BATTLESHIP, MONOPOLY, The GAME OF LIFE, NBA JAM, Flight Contol HD, RISK, Max and the Magic Marker, YAHTZEE Adventures, SimCity Deluxe, PICTUREKA!, TETRIS, TRANSFORMERS: DARK OF THE MOON, MONOPOLY: Here and Now, Reckless Racing, SCRABBLE, and SNOOD slashed with up to 80%.
Hurry up and load on EA titles, if any of the above games catches your fancy. We just don't know why they call it a back-to-school promotion - these timewasters are mainly eating away from homework time. Oh, well, it has to be called something.
source:
ElectronicArts
via
IntoMobile