Droid Unlatch lets you break into your own Android when you forget your PIN, pass, or unlock pattern
3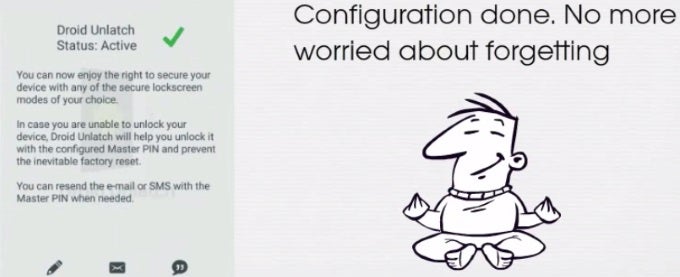 Ever forgotten your PIN, pass-code, or unlock pattern and gotten locked out of your Android device? Worry not, unlike getting locked out of your car, which is incredibly cumbersome (not to mention quite humiliating), getting yourself back in the game is about as hard as installing an app like Droid Unlatch.
This app helps you unlock the device by providing alternative methods of gaining back access. At their core is Droid Unlatch's six-digit Master PIN, which acts as a backup key. If you remember it, use it to unlock the device straight away! If you don't, you are given the options of receiving the key via SMS and e-mail to registered numbers and accounts. But this won't cut it if you don't have internet and mobile connectivity at your disposal. In this regard, Droid Unlatch can be configured to automatically turn on Wi-Fi and connect to a pre-defined network to re-send an e-mail with the Master PIN.
Now, if your device shows SMS messages on the lockscreen, you should be good to go with the "receive Master PIN through SMS" option. But if your Android is a different breed, then you will have to provide an acquaintance's phone number, or an alternative number tied to a secondary phone. As for e-mail, you need to have something to read your inbox with nearby. While these options are hardly the handiest thing ever, they are better than having no way of quickly breaking into your own device at all.
Droid Unlatch costs $0.99 in Google Play. Hey, that's pretty close to free!