Don't miss this video of a new storm-BlackBerry Storm 3, that is
27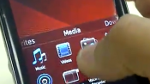 The BlackBerry Storm never did quite live up to its expectation as an iPhone killer. While the Storm 2 was a very useful touchscreen device for Verizon customers, by the time that model had hit the ground running, the Motorola DROID was proving itself to be just as popular a handset as the Apple iPhone and Androidmania was being launched.
While the timing was bad for the BlackBerry Storm 2, perhaps things are better now for a launch of the Storm 3. A video has been leaked which shows the upcoming third version of the BlackBerry Storm. Right away, you can see some changes to the hardware. An optical trackpad is on the device to help make navigation easier. And yes, it looks like RIM has pulled the plug on SurePress which eliminates the clicking QWERTY keyboard. Some Storm owners swore by SurePress while others swore
at
it.
The new BlackBerry Storm 3 is expected to have a powerful 1.2GHz Qualcomm processor under the hood. Not dual-core to be sure, but still enough of a major difference that those previous Storm owners will be able to notice the additional power. The new Storm gets a bump up in display size to 3.7 inches from 3.2 inches, and resolution goes from 360 x 480 to 480 x 800. Only one camera will be on the BlackBerry Storm 3 and it is a rear facing 5MP shooter with a video capture rate of 720p. The BlackBerry Storm had a 3.2MP camera.
RIM has really increased storage on the device with 4GB storage and 768MB of RAM under the hood, compared with 1GB storage and a paltry 128MB of RAM on the original Storm. Up to 32GB can be added to the newest version of the phone using a microSD card. The BlackBerry Storm 3 also will apparently support NFC wireless technology and will have the latest build of BlackBerry 6 OS on board. This includes the WebKit browser with tabbed browsing and pinch to zoom.
Despite the positive changes and improvements, things won't be easy for the Storm 3. The device still has a huge challenge in front of it with the dual-core Android models on the verge of getting released, and any touchscreen model offered by Verizon has to contend with the Apple iPhone 4. So far, we have no information on a possible date of release and there has been no word on a pricing scenario.
source:
BlackBerryCool