Dolphin Browser comes to BlackBerry PlayBook
6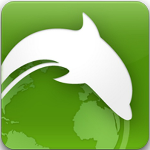 One of the most popular mobile browsers out there, Dolphin Browser, has made its way to the BlackBerry PlayBook, and while it is a solid alternative to the stock PlayBook browser, it isn't the shining light that we hoped for. This may be because the app was not developed by the original Dolphin Browser team, but rather ported by Mobotap to run on the PlayBook's Android player.
Because of that, the browser has been said to lag and slow down at times, but the features should be close to what we expect. Just like the Android version, the PlayBook variant features gestures for easy navigation, the Webzine and Speed Dial UI for getting to or seeing content from your favorite sites, as well as tabbed browsing and the Dolphin sidebar.
It may not be perfect, but it should be better than the stock PlayBook browser, and it is free. You'll need to have updated your PlayBook to version 2.0 of the PlayBook software, and then you can grab the Dolphin Browser in the
BB App World
.