Dimple will let you tape a strip of four buttons to your device and program them through NFC
16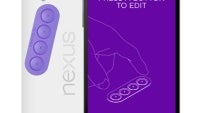 Once upon a time, mobile devices had buttons. Then Steve Jobs introduced the iPhone, and nothing was ever the same again. No, you don't have to be a nostalgic to enjoy Dimple - an NFC-enabled strip of four physical buttons that you tape to an Android smartphone or tablet and liberally assign functions to. It's a convenient, well thought out idea that's about to get funded on IndieGogo. Each Dimple sticker houses the aforementioned four circular buttons while being 0.019 inches thick (0.49mm), 1.92 inches in height (49mm), and 0.66 inches wide (16mm) and lets you configure it through an Android app.
One of the best parts about Dimple is that if you like it and want to have additional buttons, you can stick as many of them as you wish on your device, as long as you don't run out of space. The adhesive on Dimple's back-side should last long enough, although its makers warn that multiple peelings and tapings will eventually exhaust its life-bar.
At launch, the Dimple will cost $27 apiece, and it will be sold in multiple colors. Unfortunately, it won't be compatible with metal-built devices such as the HTC One and One (M8), because NFC doesn't pair nice with this type of material. We'll leave it to the awesomely produced video trailer to show you how Dimple will play out when it becomes reality.
source:
Dimple.io