Did you know that HTC made the first Microsoft smartphone (long before making the first Android one)?
23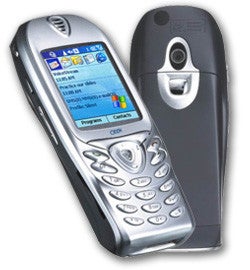 Most of today's HTC users probably know the company for being the first to launch an Android smartphone: the legendary T-Mobile G1 / HTC Dream from 2008. While that was a major launch - not just for HTC, but for the whole smartphone market as we know it - it's not the only
first
in the history of HTC.
Before Android started to dominate the market, Microsoft's Windows Mobile was the platform of choice for various manufacturers that wanted to offer a true smartphone OS. Taiwan's HTC, which started its business in 1997 as a notebook maker, was one of those manufacturers. In fact, HTC was the first in the world to make a Windows-powered smartphone - more than a decade ago.
Way back in October 2002, Microsoft announced "the availability of the Microsoft Smartphone software" (unofficially known as Windows Mobile 2002), presenting it as "a revolutionary mobile phone software platform" that would provide "more than just talking on the phone." The initial list of hardware partners for Windows Mobile 2002 included Samsung, HTC, Sendo, and Compal. For some reason, HTC was the one that made the first commercially available device to use the new platform: the Orange SPV, aka
HTC Canary
.
The
The SPV brand would live on until 2007, the last model released being the SPV E650, aka HTC Vox (this one ran Windows Mobile 6.0 Standard, and featured a slide-out QWERTY keyboard).
Now, in 2014, HTC is all about Android, though the company didn't abandon Microsoft entirely, and it may
release a Windows Phone 8.1-based handset
later this year.
P.S.: Although the Orange SPV / HTC Canary is credited as the first Microsoft smartphone, some Pocket PCs before it had the ability to make phone calls - thus, some may consider them smartphones, too.
references:
Microsoft
,
XDA
,
Wikipedia