Deal: Amazon is selling the Nextbit Robin for just $145 (total savings of $105)
5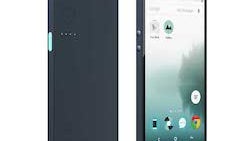 We've been covering holiday tech deals pretty much since the beginning of November, and while Christmas is right around the corner and quickly rearing its head, that's no reason to think that all of the savings are gone. If you're doing some last-minute shopping for a friend or family member (or you simply want to treat yourself this holiday season), Amazon is running a sale on the Nextbit Robin that's incredibly hard to pass up.
At the time of this writing, Amazon is selling a brand-new Nextbit Robin for just $144.99. That's right - $145 for an all-new Robin. The phone normally retails for $249.99, so you're looking at a total savings of $105 (42-percent). The deal is good for both the Mint and and Midnight color options, and that will secure you with 32GB of internal storage and an additional 100GB worth of space with Nextbit's cloud service.
Amazon's latest deal on the Robin lets you save $105 off the normal retail price.
The Robin is currently running Android Marshmallow, but we're expecting Nextbit to release the update to 7.0 Nougat in the very near future. Along with the new forthcoming software and beefy storage, the Robin also comes equipped with a 5.2-inch 1920 x 1080 display, Snapdragon 808 processor, 3GB of RAM, a 2,680 mAh battery, and a 13MP/5MP camera combo for the back and front respectively. Those may not be the best specs around, but for just $145, it's hard to say no to the Robin at this price.
There's currently no word as to how long Amazon will be running this deal, so be sure to act fast if you're interested!