DU Speed Booster: give your Android phone a fast tune-up
9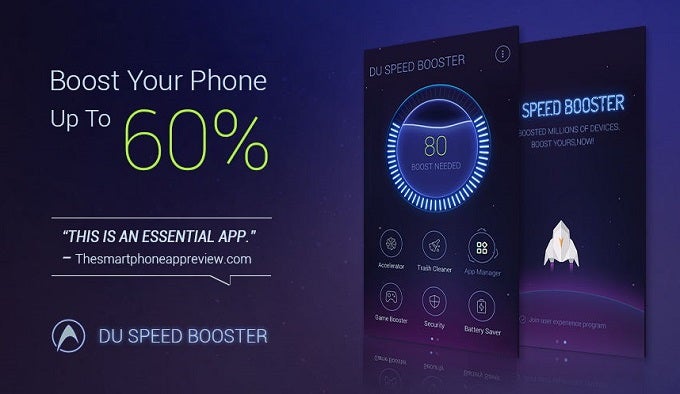 Advertorial by

DU Apps Studio

: The
opinions expressed in this story may not reflect the positions of PhoneArena!
disclaimer
| | |
| --- | --- |
| Developer: DU Apps Studio | Download: Android |
| Category: Tools | Price: Free |
There are several factors that affect a phone's performance, the most important of them being its hardware – processor, GPU, amount of RAM, and so on – and the software in charge of these components. And while a user has little to no control over the former part, the latter is not too difficult to tinker with. Enter DU Speed Booster, an application made to speed up your Android phone with its easy-to-use optimization tools. A performance boost of up to 60% can be expected, which sounds impressive, to say the least. Here, we give it a test-drive and see how well the app actually works.
Right after DU Speed Booster is launched, it performs a quick scan of the device to measure its overall efficiency.
DU Speed Booster has a feature called Accelerator, which lists all your currently running apps and recommends you to close the most RAM-hungry ones to free up memory. This is an extremely convenient way to quickly identify and stop the most resource-intensive apps that are using your phone's RAM. DU Speed Booster lets you do all of that in one tap, which definitely beats looking through all of your running apps and closing them one-by-one – something anyone with a smartphone is regretably familiar with. From our experience, using the Accelerator resulted in a snappier experience using our smartphones.
Another performance boosting feature that's included is the Game Booster. It scans the games you have installed on your phone and puts them in a special folder on your home screen. When a game is launched from there, DU Speed Booster will free up memory and kill apps before the game is launched. The result is noticeably optimized game performance, although how much mileage you get out of this feature will naturally depend on the strength of your device's hardware. Older devices can expect to see noticeably smoother-running games.
Then, we came across a feature that's extremely useful – the Trash Cleaner. It scans the device's storage space and lists any files that can be deleted safely. Doing so can free up quite a lot of storage space on your phone. For example, we freed up around 880 megabytes in a single go. Still, one has to be careful not to delete any files that they actually need, such as offline map data, or cache files that might still be useful.
The App Manager also works quite well. It can be used to uninstall multiple apps simultaneously, which is great if you need to free up space. It can also scan for apps that can be moved over to the phone's micro SD card. Another feature we find handy is the option to view apps and their permissions. This makes it easy to identify suspicious apps, which access data they're not supposed to. But the feature we found most useful was the start-up manager. It can control the list of apps set to load when the phone is booted up. Keeping this list short is very likely to improve your device's performance, especially if it has lots of apps installed on it.
To protect people's data, DU Speed Booster includes a virus scanner, which scans every installed application for suspicious activity. App updates are monitored as well, just in case. The scanner runs in the background so you don't need to launch DU Speed Booster every time you want it to double-check an app's safety for you.
So that's DU Speed Booster for you. It has some really useful features, such as the App Manager, the Trash Cleaner, and the Virus Scanner. It can definitely give a boost to Android phones (particularly ones with older hardware), or ones that are loaded to the brim with applications. We recommend giving it a try.
| | |
| --- | --- |
| Developer: DU Apps Studio | Download: Android |
| Category: Tools | Price: Free |
Download it here (Google Play Store)