DROID RAZR source code released
11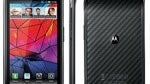 Motorola has released the source code for the DROID RAZR, which should make things easier for developers working on custom ROMs for the device. The RAZR had a very easy path to root, with a root method found just a day after the device was released.
We're not sure how many members of Team Douche are still working on Cyanogen 7, because that would be the easiest thing for the dev teams to build from this RAZR source code since both are based on Android 2.3 Gingerbread. It is possible that the drivers from this code could be used in Cyanogen 9 (CM9), but there are more possible problems with that because CM9 will be based on Android 4.0 Ice Cream Sandwich, which is far more closely related to Android 3.0 Honeycomb, than it is to Gingerbread.
Still, while we're waiting for ICS-based ROMs and CM9, some custom Gingerbread ROMs would be pretty fun on the RAZR.