Corning outs Vibrant Gorilla Glass - print anything on your shiny phone surface
8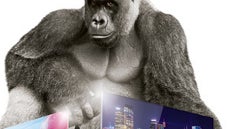 Corning, the maker of all things tough and shiny, has come up with a new take on its signature hardened glass line, called Vibrant Gorilla Glass. Why vibrant? Well, it turns out you can print photo-quality images on one of the toughest transparent concoctions in the world now.
Yep, Corning came up with a way to put colorful pictures on, say, the rear of your smartphone, given how many of those are now made out of a glass and metal fusion. As per Corning, the prints can include "
gradient colors and logos, photo-quality images and multi-color decorations,
" all in high-res and with decreased processing times. As per Scott Forester, the chief of Gorilla Glass Innovations:
Device manufacturers today are looking for new ways to differentiate their products, without compromising important features such as durability and clarity. Vibrant Corning Gorilla Glass provides a new opportunity for customized decoration and commercial branding and is one of several valuable product enhancements that leverage Corning's core capabilities to meet the evolving needs of our customers.
Oh, joy. Queue the abominations, but some tasteful ideas could be implemented with Vibrant Gorilla Glass as well, so we can't wait to see what manufacturers will come up with. As a teaser, the company announced one of the first product that employs the customizable Vibrant Gorilla Glass prints - a new Chromebook by Acer; check it out below and tell us what you think.