Connecticut wants to levy a sales tax on app downloads in its turn
16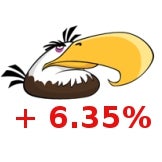 Connecticut's sales tax rate is 6.35% and the cash-strapped state wants to levy it against your digital downloads, too, such as music, E-books and, gasp... smartphone apps.
A bill introduced by the General Assembly's finance, revenue and bonding committee is supposedly aiming to level the playing field for retailers with physical presence, but, considering what an E-book costs compared to its paper edition, it looks like just an initiative to find another source of tax revenue for the state's coffers.
Gov. Dannel P. Malloy is against the digital downloads tax legislation, however a state tax attorney says "
The taxation of electronic goods and services is probably the fastest-growing new tax that's been imposed in the last five years
", and 25 states have already implemented it.
Public hearing on the issue will be held tomorrow 10am at at the Legislative Office Building in Hartford, Room 2E, so shout out if you live in Connecticut and don't want to pay 6.35% on top of your next Mighty Eagle purchase, when you get stuck in an Angry Birds level. It's petty of them to ask you, we know.