Check out these two new ads for the Apple iPhone 6s
21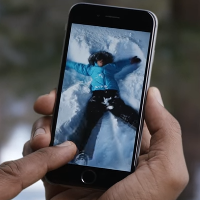 Apple has released a couple of new ads for the
Apple iPhone 6s
as the device heads towards the halfway mark of its year-long reign as Apple's flagship phone. The first ad, "Less Time," is about 3D Touch as we see various ways that the feature makes using the iPhone 6s faster. For example, with 3D Touch you can "Look at a site without going to it. Watch a video without opening it. You can do pretty much everything faster."
For those of you who are just awakening from a coma, 3D Touch measures how hard the screen is being pressed. The technology is able to differentiate between a light touch, a regular touch and heavy touch. Each touch brings on a different result. A light touch brings a peak into an application, while a heavier touch pops you right into the app.
The second ad is called "Live Photos" and is all about the feature by the same name. As you snap a picture with the iPhone 6s, the 1.5 seconds before and 1.5 seconds after the shutter is snapped are recorded. Pressing on the photo while it appears on the screen, turns the static photograph into a three second video.
You can see how this works by watching the ad. "This is a cat. And this is a Live Photo of a cat," starts the commercial. Apple even throws a little sense of humor into the spot. Live Photos "transports you through space and time," says the voice over announcer. "I'm kidding," she adds. "Time travel is dangerous."
While the ads are currently in rotation, why sit through hours of boring television to view them? Just click on the two commercials below in order to view the latest iPhone commercials from Apple.
source: Apple (
1
), (
2
) via
AppleInsider