Charging a tablet from a USB port made possible with the ChargeDr
9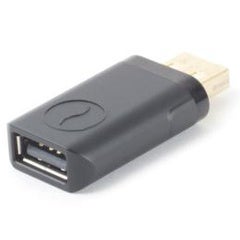 While a typical USB port on a computer provides enough juice to charge a smartphone, its power output just isn't enough to bring a tablet back to life. That's why, for example, a beefy 12W wall charger is supplied with the latest 9.7-inch Apple iPad versus the 2.5W or so that most USB ports deliver. This tiny little gizmo, however, changes things a bit.
It is called the ChargeDr and its maker, Digital Innovations, claims that it boosts the output of computer USB ports enough to be capable of charging a tablet.
Furthermore, the gizmo is not only compatible with wall adapters and car chargers as well, but it will also cut the charging time of a smartphone in half while a tablet should charge four times as fast.
CNET
was given the chance to test the ChargeDr and the results did not disappoint. It has been confirmed that the accessory works with a third-gen iPad connected to a laptop's USB port. Unfortunately, there's no word yet as to how fast it was charging. Nevertheless, the device works as intended, so folks looking for such a solution might consider getting one when it is released in March. The ChargeDr by Digital Innovations will retail for about $30.