Bubl - the Google-integrated spherical PhotoSphere camera will start shipping next month
9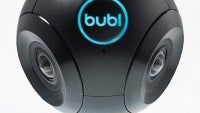 It looks like the first 360-degree consumer camera will be ready to ship next month. The Bublcam is Toronto-based Bubl Technologies's spherical baby cam, which makes it possible for users to pan anywhere in a given shot, capture three-dimensional photos or live video streams, and instantly share them on Google Maps, Street View, and Google+.
The magic happens thanks to a four-camera arrangement with zero blind spots, along with processing and optimization features such as real-time image stitching, self-calibration and image stabilization. Not all is automatic, however, as Bublcam has manual controls for HDR, white balance, contrast, and gamma. Additionally, developers can make use of the Bul API & SDK to make specialized apps for the camera, and future developments could bring facial and image recognition, interactive touch points, motion tracking, and VR integration.
The potential seems to be there, and in addition to iOS and Android devices, Bubl already supports Oculus VR, the PS4 and Xbox One consoles, the Amazon Fire set-top box, and the Avegant "personal theater" goggles. The company's mission is to bring 360-degree content on every major platform.
Bublcam is up for preorder at a steep $579, available in black, white, or silver. Hopefully, the camera will be awesome enough, otherwise you'd have to be quite manic for spherical photos to give that kind of cash for a camera the size of a baseball.