Browser bug in Samsung Galaxy S III eats excess data, causes increased loading times
17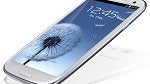 Researchers at the University of Massachusetts – Amherst have uncovered a bug in the hugely successful
Samsung Galaxy S III's
stock internet browser. The issue results in the browser downloading more images than is necessary and that also increases page load times.
The bug was discovered while Emmanuel Cecchet, Robert Sims, Xin He, and Prashant Shenoy were testing a Quality of Experience (QoE) benchmark application and will present at the IEEE Symposium in Montreal, this week.
"When comparing our results on the different devices and networks for our Wikipedia trace, we noticed significantly higher latencies for our Samsung S3 smartphone on both Wifi and 3G," according to the report. The cause of the problem is a srcset HTML attribute which allows mobile devices to download the right-sized image. For the SGSIII however, the browser downloads all the images which can then result in longer load times or outright errors not to mention increased data usage.
The good news is that the srcset standard is still being drafted it is not used widely. If such an issue concerns you, using a browser like Firefox or Chrome will help as those products do not look for the srcset tag. You can view the whole report in the source link below (PDF file).
source:
UMass
(PDF) via
Tech2