Boost the 4G signal on your device with the Sleek 4G from Wilson Electronics
13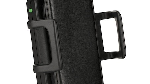 If you live, work or travel in an area where you just can't get decent 4G signal strength, the Sleek 4G is for you. Manufactured by Wilson Electronics, the booster gives you in excess of
20 times
the amount of power delivered by the average smartphone. The Sleek 4G works with the 4G networks on all U.S. carriers except WiMAX.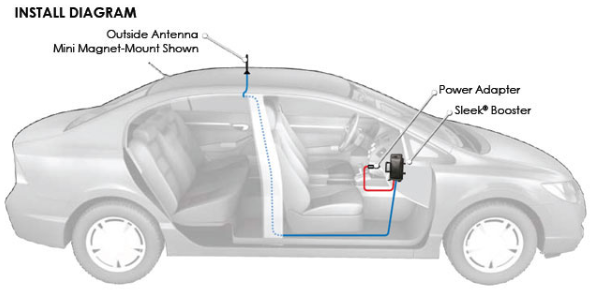 The Sleek 4G booster can be installed on vehicles
Measuring 2.5 by 4.5 by 2.5 inches and weighing just three ounces, the Sleek 4G uses a one-size-fits all cradle and is sold as a plug and play kit. An optional home kit converts the unit into a booster
suitable for home or office use
. There is no installation required and the booster is expected to retail for $199.95. With your device safely nestled in the cradle, you can still use Bluetooth and quickly install the booster on a vehicle for hands-free use.
The Sleek 4G will be displayed at CES 2013 in Las Vegas and works by taking in weak 4G signals from a roof-mounted antenna, and sending it over a coax cable to the cradle where it is
boosted using an amplifier.
The signal is then transmitted to the device in the cradle using a built-in antenna. Reversing the process is how a boosted signal is sent from the device to the cell tower.
With the Sleek 4G, there is no need to suffer with weak 4G signals, dropped calls, or even "Dead Zones". It also offers faster data transfer rates and can help improve your battery life. For those who travel through lightly populated areas, this booster could literally be a life saver.
source:
WilsonElectronics
via
Engadget
Las Vegas – Jan. 7, 2013 – Promising stronger signals and fewer dropped connections, Wilson Electronics, North America's leading maker of cellular signal boosters, today announced the Sleek® 4G, the world's most advanced 4G mobile booster designed to improve cell reception in cars, trucks, boats and other vehicles.

The Sleek 4G boosts cellular signals inside a vehicle for customers whose devices operate on all U.S. carriers' 4G networks (except WiMAX). The Sleek 4G also will also amplify pre-existing signals, which includes all major carriers and their legacy voice and data services. This allows the user to enjoy a strong, reliable signal even where 4G services are unavailable.

Benefits include fewer dropped connections and no-service "dead zones," faster data transfer rates and improved battery life for wireless devices. The Sleek 4G was named an International CES Innovations 2013 Design and Engineering Awards Honoree, and is on display in the Wilson Electronics booth #35666 through Jan. 11 at the International CES in the Las Vegas Convention Center.

"The Sleek 4G offers cellular customers a complete mobile signal boosting solution," said Laine Matthews, Wilson's director of business development. "It maintains a strong, reliable signal for any cellular device. We're always striving to deliver the best boosters to our customers, and it's great that we can offer a device that works with multiple carriers' 4G networks, as well as legacy networks, that's this small and this affordable."

The Sleek 4G measures just 2.5 by 4.5 by 2.5 inches (6.4 x 11.4 x 6.4 cm) and weighs only three ounces (85 grams). The device is sold as a plug-and-play kit and is expected to be available later this month from Wilson retailers with a manufacturer's suggested retail price of $199.95. No tools are required for installation, and most any consumer can install the Sleek 4G in his or her vehicle in a matter of minutes.

The Sleek 4G's patented, all-in-one cradle design facilitates use of a Bluetooth headset or other hands-free device by those behind the wheel. An optional accessory kit converts the Sleek 4G into an indoor booster suitable for home or office. The Sleek 4G is FCC type accepted.

The Sleek 4G delivers more than 20 times the power of a typical cell phone, and works with all U.S. cellular devices including tablets, modems and mobile hotspots like the Mi-Fi™ and JetPack™. Like all Wilson signal boosters, this device features cell site protection techniques developed through cooperative effort between Wilson and several major cellular carriers that prevent the possibility of interference with any nearby cell tower.

How it Works

The roof-mounted antenna receives a weak signal from a cell tower and sends it over a thin coax cable to the Sleek 4G cradle. The signal is then boosted by the Sleek 4G's built-in amplifier and transmitted to the cell phone or other device by the Sleek 4G's built-in antenna. The process is then repeated in reverse to send a boosted signal from the phone or other device back to the cell tower.