Boost lowers the price of the Curve 8530 to $199.99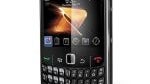 Boost Mobile
, which is the prepaid arm of Sprint Wireless, has just lowered the price of their BlackBerry Curve 8530 device. They have permanently reduced them, as in not just a sale, from $249.99 to only $199.99.
Before you shirk that price as too expensive, keep in mind that you are getting the device off-contract. If you were to purchase it for full price from other carriers, the
Curve 8530
would still be around $300.
The reduction in price is already good news, but when combined with Boost Mobile's new
'Shrinkage' plan
, Boost is looking like a great all-around value.
Unlimited
talk/text/data plans start at $50 ($60 for BlackBerry), and are reduced by $5 for every 6 months you stay with Boost, down to $35. You can then keep that $35 rate for as long as you're their customer.
We know, with all the Android, Windows Phone 7, and
webOS
devices out or on their way, it's hard to get excited about a BlackBerry. But for the bare bones email/messaging user, the Curve 8530 is still more than sufficient.
source:
Boost Mobile
via
Engadget
Recommended Stories