BlackBerry saves skier's life after he falls down a mountain
8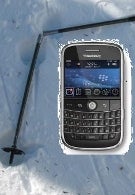 David Fitzherbert will never complain about the thickness of his BlackBerry handset anymore. It was that little extra bulge that a BlackBerry user gets when he stores the phone in his breast pocket that most likely saved Fitzherbert's life. The 52 year old was skiing down a glacier in the Matterhorn and Monterosa peaks in Switzerland when the snow gave way. The skiier explains that he then ,"...fell down a very deep crevasse. After 70 feet it narrowed and I became stuck like a cork in a bottle between the walls." Luckily for him, the extra width of his BlackBerry was enough to prevent him from passing by the rocks and walls and falling to his death. Amazingly, he remained stuck by his BlackBerry for two hours until help arrived.
David ended up with a broken jaw, smashed teeth, cracked a bone in his chest and nearly tore his nose off. After being rescued by a helicopter rescue team, he was flown to a hospital in Bern where he was treated for hyperthermia and a concussion and had surgery to reattatch his nose. He spent ten days in the hospital, using his BlackBerry to call his wife in the U.K.
While the specific BlackBerry model was never mentioned, a copyrighted photo of the survivor with his device shows that it was the BlackBerry Bold that saved his life. In comparison, the Bold is .05 inches wider than the BlackBerry Storm and .20 inches wider than a Nokia E71. In this case, every fraction of an inch made the difference between life and death.
source:
The Sun (UK)
via
Crackberry