BlackBerry Protect helps get a mother her missing BlackBerry Z10, stuffed with baby pictures, back
99+
BlackBerry Protect is built into the BlackBerry 10 OS (it is enabled by default on the
BlackBerry Passport
and
BlackBerry Classic
) and allows you to access your phone via a web site if it is lost or stolen. And once you connect with your lost or stolen 'Berry, you can lock it to make sure that your data doesn't end up in the wrong hands. You can also write a message on the screen that gives contact information to anyone who finds the missing BlackBerry. And if you are sure that you will never, ever see your beloved BlackBerry again, you can use the Protect website to wipe the phone.
And that brings us to the Schito family of Waterloo, Ontario. If that location sounds familiar, that is because it is where the corporate headquarters of BlackBerry resides. Andrew Schito works for BlackBerry and his wife Teresa works as a Communications Coordinator for the Region of Waterloo. One day, Teresa was at the community center for her swimming lesson when...HORROR! Her
BlackBerry Z10
was AWOL.
On the way home, Teresa was upset. Let's hear how she felt in her own words. "
The drive home had me thinking about all my pictures, and I started to get very upset. Months' worth of pictures and videos of my little guy growing were potentially gone. It was heartbreaking
." Her husband immediately signed on to the BlackBerry Protect website and put a message on the missing phone's screen, leaving a contact number in case it was found.
BlackBerry Protect also discovered that the phone was in an apartment building across town. The cops were called in, and while outside the apartment where BlackBerry Protect said the phone was located, Andrew used the website (from his own 'Berry) to have the missing Z10 make a noise that one of the cops heard. The cop entered the apartment and the phone was turned over to its rightful owner without an incident.
Sure, since her husband works at BlackBerry, Teresa could have simply had him bring home a new phone. But she was worried about the baby pictures that could have been lost forever.
"All I can say is: Thank goodness for BlackBerry Protect! I know a lot of people who have lost their phone, and they lose all their pictures and everything with it and then end up just buying a new phone. I'm so thankful I didn't have to do that."-Teresa Schito, BlackBerry Z10 owner
You can grab more information about BlackBerry Protect by clicking on the sourcelink.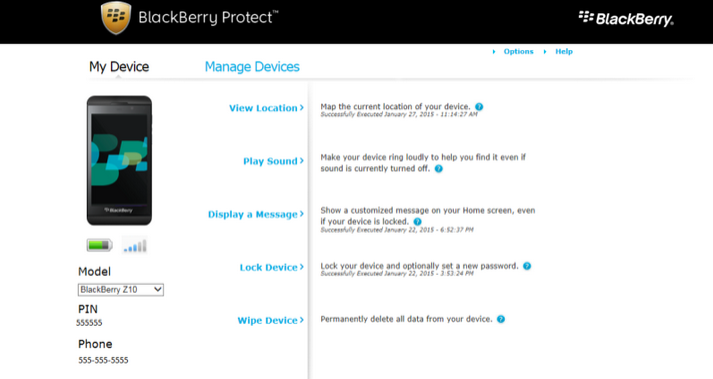 BlackBerry Protect is a lifesaver if your 'Berry is lost or stolen
source: BlackBerry (
1
), (
2
)