BlackBerry PlayBook integral part of Renault's new concept car
1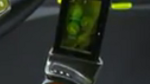 The Renault Frendzy concept car, about to be on display at the
64th Frankfurt Auto Show
, has a technological surprise inside the vehicle-the BlackBerry PlayBook. The tablet plugs into the dashboard and turns the Frendzy into an
office on wheels
. When plugged out, the PlayBook remembers the information that you have been working on and also lets you use the device as a regular tablet.
In addition, the BlackBerry PlayBook also controls some of the functions of the car including what is being shown on the Frendzy's exterior display. This display is like a screen that can show videos, a movie or a sign while in motion or when parked. Sensors on each door use
RFID signals
to send to the PlayBook information on packages inside the car such as destination address, and the dimensions and weight of each package. Of course, whether plugged in to the car or carried outside of the vehicle, all of the functions of the PlayBook can be used.
As an electric concept car that switches from "work" mode to "family" mode, the Renault Frendzy is interesting, but as with any product that has the
concept label attached to it
, don't expect to see this in a dealer's showroom soon.
source:
RIM
via
BlackBerryCool