BlackBerry 10 walkthrough
11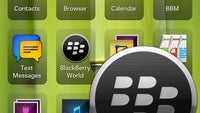 It may have taken quite a long time to materialize, but the new BlackBerry 10 platform is already here – loaded with new, contemporary features and with 70,000 apps in its arsenal, headed on its way to the pockets of interested buyers.
Would you like to get more familiar with it? If so, then you've come to the right place. This walkthrough post is about the essential features in BlackBerry 10 and their implementation within the platform. These are the things that make the new BlackBerry 10 OS new – detached from the outdated BB7 and now worthy of challenging the well-established competition. You'll get to see how its makers have taken advantage of all that touch screen real estate and built their platform around simple gestures. Also, you'll get an idea as to what apps BlackBerry 10 will have to offer at launch, and whether your favorites are in its catalog.
So without further ado, feel free to flick through our BlackBerry 10 walkthrough and check the platform out. Who knows, this might be the alternative mobile OS you've been wanting to use all along.