Bit Torrent app The Movie DB.Net still resides in the App Store
12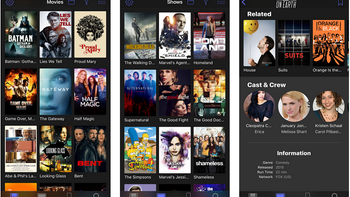 Bit Torrent client Popcorn Time can be sideloaded on iOS and Android, allowing users to watch pirated movies and television shows as easy as one would watch a title on Netflix. Because of its open source nature, several developers used Popcorn Time's code to build their own apps. One is The Movie DB.Net app, which has been available to iOS users from the App Store since early last month.
According to a Reddit user with the handle of
mystic_quiddity
, The Movie DB.Net app uses a fork of Popcorn Time's code that he created. Another Reddit user gave The Movie DB.Net thumbs up with his review which said, "This app is the best I've seen. Downloaded a couple movies so far."
Somehow, The Movie DB.Net escaped the eyes of those at Apple charged with vetting App Store content. Heck, it even has been updated three times. However, we have no doubt that once the you know what hits the fan, the app will be toast. So if you have no moral qualms about using Bit Torrent to stream movies and television shows without the proper copyrights, you might want to download the app now before it is taken down by the powers that be at Cupertino. You can find the App Store listing by clicking on this
link
.
source:
Reddit
via
BGR