Best Buy robbers make off with $14,000 worth of phones in broad daylight
15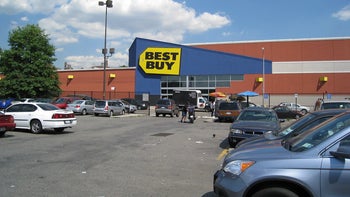 "Oh, the places you'll go", said Dr Seuss, and he certainly meant the meandering ways your life is going to develop until you reach that point when you break into a Best Buy storage closet on a sunny afternoon to steal 17 phones worth $14,000.
According to the NYPD, the incident happened around 2pm at the Northern Blvd. store, and its
Crime Stoppers
division that gives up to $2500 for information leading to a suspect's apprehension, even released the surveillance camera video showing two partners in crime making off with the loot in a sports bag.
The NYPD stated the obvious by saying that one of the suspects is male, between 25 and 35 years old, wearing a white T-shirt and what seems to be black jeans. His accomplice looks to be a female in the same age bracket, with long blond tresses, green hat, and a dark jacket.
Well, at least the handsets weren't all flagships, as every self-respecting tech fan knows that a true high-end phone should command at least $999 these days.