Believe it: Juniper Research forecasts $70 mil advertising spend by 2019 on... smartwatches?
6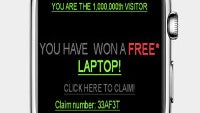 If you are thinking that manufacturers are alone in trying to figure out wearable tech, you are forgetting another, kind of omnipresent player: the advertising industry.
Yep, you read that right – according to a new report from Juniper Research, advertising spend on smartwatches will reach nearly $70 million by 2019. That's small potatoes in the big scheme of things, but it does indicate that wearables aren't about to pass unnoticed by ad agencies, which, reportedly, have so far spent just $1.5 million on advertising to early adopters of the new form factor.
How do you reach consumers on an entirely new platform, however? That's tricky, even when talking about comparatively obvious verticals. But when you consider the absolutely claustrophobic room there is on your typical wearable to even fit essential interface elements, it becomes a question of whether advertising on smartwatches can ever be anything more than a massive pain for users. Indeed, while most of us have grown to tolerate ads that take up, say, 10% to 20% of the available display real estate on our smartphones, it'll be for advertisers to figure out how to get us to agree to a much bigger slice, or to annoying pop-ups. That is, unless the advertising industry rises up to the challenge and comes up with a new, ingenious way to reach us.