Banning cellphone use by drivers might not lower the number of accidents
9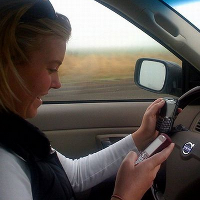 According to a professor who worked on the study, legislation in California from 2008 that banned drivers from using their cellphones while behind the wheel, had no affect on the number of accidents on the road. Professor Daniel Kaffine said that he would have expected a tiny decrease in the number of accidents, even if just a small number of drivers stopped using their phones while behind the wheel.
Professor Kaffine and his crew looked at all of the factors that play a part in accidents, including the introduction of safer cars, a recession that lessens the amount of driving, and changes to traffic laws. Other variables that the team played with included precipitation (wet roads could lead to more accidents), and gas prices (lower gas costs increases traffic on the road and vice versa). While previous studies have stated that using a cellphone while driving was similar to driving while under the influence, Professor Kaffine says that those studies were too clinical and focused on the lab instead of how people would have responded in real life.
After adding all of these other factors into their computations, it was discovered that banning the use of handsets by drivers contributed nothing toward reducing the number of accidents. Possible reasons for this conclusion include drivers ignoring the law, and drivers switching their tool of distraction from the phone to their car's radio or satellite system.
"If it's really that dangerous, and if even just a fraction of people stop using their phones, we would expect to find some decrease in accidents. But we didn't find any statistical evidence of a reduction."-Professor Daniel Kaffine
The actual law took effect on July 1st, 2008 and accidents from January 1st, 2008 to December 31st, 2008 were studied to see if the law helped prevent crashes. The results of the study might be surprising to some, but shouldn't give you the freedom to start sending out tweets while trying to maneuver on California highways during rush hour.
source:
ScienceDirect
via
TheRegister