AutoCAD WS for Android enables real-time design collaboration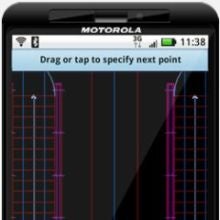 If you work with AutoCAD (computer-aided design) software, then you're probably familiar with AutoCAD WS for iOS. And
Autodesk, the makers of AutoCAD WS, have announced that an Android version is coming soon
.
AutoCAD WS will allow you to view, edit, and share your design projects in real-time from your Android device
. And your collaborators and clients can do the same from their Android or iOS device, or any computer with a browser. Viewing the projects from a computer doesn't require a special app, so you can bring anyone in on the review process.
AutoCAD WS allows you to store your projects online, so they're never beyond reach, even without your device. But there is still the option to edit them offline. And the controls are familiar and intuitive, so it won't be a great departure from your normal design experience.
Industry professionals and aspiring designers alike could benefit from the convenience and access of AutoCAD WS. It will be available from the Android Market soon. Visit the link below to register for Autodesk's AutoCAD WS notifications.
source:
Autodesk
via
Android and Me