Augmented Reality used by eBay to allow you to try on items online before you buy them
0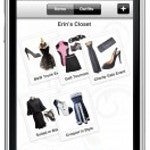 One of the things that makes it difficult to buy certain items online is the lack of a way to see how you look wearing clothes or sunglasses for instance. What a coincidence then, that eBay has added Augmented Reality to an upgrade of its App Store app that allows you to see how you will look wearing those shades, or that outfit that you want to bid on.
The sunglasses feature, called "See it on", allows you to take a self-portrait using the front-facing camera on the Apple iPhone 4. Using the pinch-to-zoom function on the phone, you can see how certain models of sunglasses make you look. For trying on clothing, the feature is called "Outfit Builder". Using a white canvas, a saved picture or a live shot from your front-facing camera (using a mirror), you can superimpose the outfit that you are interested in and see how it looks. Outfits can be saved or shared using email.
Time will tell whether or not this is more than just a gimmick for eBay customers to play around with. Augmented Reality is still more or less a sideshow (Rock'em Sock'em Robots anyone?) but with the faster dual-core phones soon to be launched along with 4G models, we should start to see Augmented Reality becoming a mainstream feature on other sites and apps in 2011.
source:
AllThingsDigital